Everything you need to know about Elementor
Elementor is a WordPress page builder with drag-and-drop functionality that lets you build professional webpages even if you don't have any designer or developer skills.
You can basically use page builder without any knowledge in HTML, PHP, or CSS – which makes it possible to enjoy the rewarding facilities of an all-inclusive page builder without breaking the bank.
With tens of comprehensive and easy-to-understand templates, Elementor gives you a place to build from if you feel you don't have the skill or time to start from scratch. The drag-and-drop functionality lets you bring content widgets into the page and place them anywhere you like.
It also allows you to adjust content elements that are already within the page and move them to entirely new places. Those elements include headlines, text, images, icons, spacers, dividers, buttons, videos, image galleries, counters, shortcodes, testimonials, etc.

Is it free with WordPress?
Elementor is no doubt one of the most popular page builders for WordPress websites. It is jam-packed with features and is quite easy to get the hang of even for non-techies. Just like most other page builders, Elementor comes in both a free and a paid version, both of which can be obtained on the page builder's official website.
What sets this WordPress page builder apart from other rival plugins such as Leadpages and Instapage is that you actually get the bulk of its features without paying a cent for it. By simply installing it, you get to enjoy more than 75% of everything Elementor has to offer.
It is, however, advisable that you buy the full package to avoid missing out on the most important Elementor features. For instance, the pro version allows you to work on all areas of your website, unlike the free version which only lets you modify the content areas.
Cost
The pro and full version of Elementor will cost you $49 a year.
That is a measly price tag given Leadpages charges you $37 a month for their pro version and, wait for it… you will still not get the full package of the plugin. Instapage is even costlier at $129 per month. If you are on a tight budget, Elementor is the best option you've got.
Is the plugin free?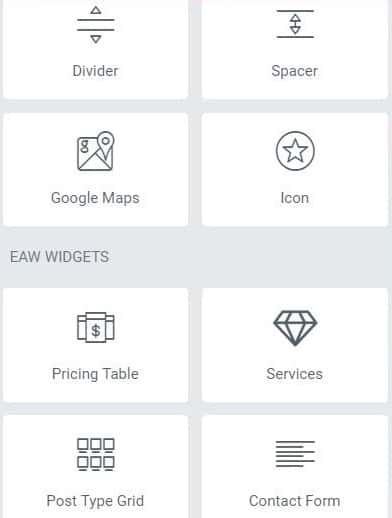 The plugin is free and open-source. There are several add-ons that have already been created for the page builder and that can be obtained by web owners either for free or at a fee. Anyone with developer skills and wants a page builder that allows for further extension and integration should give this plugin a shot.
To use this WordPress page builder for free, you may have to forfeit some features that can only be accessed with the pro version. A free version is an ideal option when you want to put the plugin through its paces and compare it with other page builders.
Features that come with the free version include the drag-and-drop interface, with which you can create distinct page layouts. The drag-and-drop functionality is the center and main selling point of this plugin. It offers way more than WordPress's default feature set, including the ability to build multi-column layouts for your pages.
With the free version, you can keep the design of your entire website similar and cohesive. Templates can be saved for future use, so you don't have to worry about starting from scratch again.
The simple answer to this is, "No!" The pro version of Elementor comes at $49 per year – which is an absolute bargain for the sheer amount of features it comes with. It can do everything the free version does, including dragging and dropping elements in your pages. Unlike the free version, however, Elementor Pro doesn't restrict you from modifying just the content area of your pages. You can use the plugin's editor on virtually any aspect of your pages.

WordPress offers users thousands of themes to choose from, most of which are compatible with Elementor. The theme you eventually settle for is thus more a matter of individual conscience.
That is however not to say that all themes are created equally. Of course, there are those that load faster and are more customizable, SEO-friendly, mobile-friendly, and compatible with certain browsers. Be sure to check beyond just Elementor compatibility when looking for a suitable theme for your WordPress website. Some of the tested-and-tried themes we may recommend are Hello, Astra, Layers, GeneratePress, Rife Free, Sydney, OceanWP, Neve, Zakra, Page Builder Framework, and Tesseract.
Does it slow down your website?
While page load speeds are not entirely down to the page builder, your use of plugins in
general can have a huge impact on your website speed and, consequently, your ranking on Google.
There are complaints on online forums about this plugin being slow, but the problem has mostly been traced to the overuse of the page builder. If you use too many features on one page, you're likely to impact your website's load speed. It is also advisable to minimize the number of other plugins you use in combination with Elementor.
Does it work with other themes?
If you are looking for a single theme to start your Elementor journey with, Hello Theme
Elementor would be a great choice. Written on Vanilla JavaScript as opposed to JS Query, the theme is both highly responsive and is built with page load speeds in mind. It offers just the basic functionalities and can be installed and used even by novices. The only downside to this theme is that it is only available to users. We from Java Logix love using Elementor on a regular basis.
Elementor's YouTube Channel Uploaded An Amazing Overview Of Pro 2.0:
Read some of our older but just as interesting blogs: