There is a lot that goes into creating excellently-performing Google Ads accounts. What would you say if you found a quick secret that could help increase your ad campaign's CTRs, overall conversion rates, and possibly the ad's quality score and rank? It's time you learn more about these four Google Ads extensions.
Onboard yet?
Excellent!
This secret is easy to understand and execute. And since most marketers ignore it, it will give you an instant edge. The secret is simple: add Google Ads extensions to your ad campaigns.
What are Google Ads extensions?
These are snippets of additional information that can be added to campaigns to make them more efficient. There are many types of Google Ads extensions. Each extension offers distinct benefits by providing clickable CTAs or information that can improve the overall performance of your ad marketing campaigns. Here are the top four Google Ads campaigns that you should be using.

Think about this; you are waiting in the car with a toddler while your spouse shops. And you are planning to get dinner at the local restaurant afterward.
Now you are browsing on your iPad or smartphone. You type your preferred restaurant into Google and …voilà! The first result is exactly what you want.
But wait… there's no phone number.
So, you decide to visit their official website and look around. After one or two minutes, you get sick of searching and opt to get dinner elsewhere.
That restaurant just lost a sale. This would not have happened if they had been using a reliable call extension on their Google Ads campaigns. The extension looks like this:
That call icon is vital for all types of businesses that provide sales or customer support via phone. If you run real estate ads, here is how these Google Ads extensions look like.
By adding the call button, you tell your target audience that you are just a single phone call away. This builds trust and makes your business feel more approachable. Failure to set up a call extension for your ads means you will frustrate some prospects.

These little cuties are the additional links under your primary result link. When you are directing prospects to a particular landing page, it's important to match their intent. If a prospect is looking for window blinds and you send them to a page that catalogs all your products, the chances are that you will lose that conversion.
This is where sitelinks extensions come in. They allow you to direct your prospect to the specific page they need. Check this…
With just a single text ad, you can successfully match different (unique) forms of intent. At no extra cost, sitelinks can do wonders for your ads' CTRs.

These Google Ads extensions allow you to highlight essential promotions or features like 24-hour client service of free shipping. While these texts are not clickable, they offer more room for you to share more details.
Most marketers know the power of callouts in adverts. You probably know the part where you say, "Are you tired of having to vacuum your rug? Or "Calling all ladies frustrated with their makeup."
Well, it sounds like an informercial. And it is.
Informercials have been used for a long time, and for a good reason.
They work.
The callout extension looks like this.
You can use the extension to say different things. For instance, you can describe the specific products on offer, callout on your specific target audience, or promote a special deal you launched recently. In other words, callout extensions help grab the attention of your target audience.

Structured snippet extensions adhere to a similar logic to that of sitelinks extensions. They offer the opportunity for you to tell your prospects what your company sells. The more chances you get to do this, the better.
The harsh reality is that many searchers see your ad result, but they don't know your company, what you offer, and how you can help them. If used correctly, a structured snippet extension can solve this issue. Here's how the extension looks like;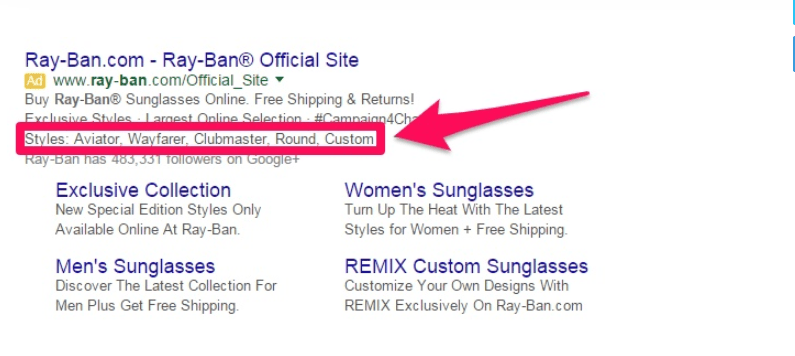 The purpose of structured snippets is to explain to prospects the types of products, service, or styles you provide. It allows you to quickly list a few options that visitors will have when they click the link to your website.
Whether you offer CRM software, clothing, email marketing software, or sunglasses, you can include the details about your products in the structured snippet. This way, searchers will know more about your brand and products or services long before they visit your website.
Wrap up
Google Ads extensions allow you to take up more space on the SERPs, provide extra links to your website, products, and other details that can draw more people in, and boost your CTRs. It's time you get a marketing expert to help add these important Google Ads extensions to your Google Ads campaigns.