Advancements in Google's search algorithm and its widespread use among consumers have shifted the marketing priorities for businesses. Today, it's no longer about maintaining a professional website. It's also about having an online presence, and the two most effective ways to get that presence are SEO and traffic. Implementing effective on-page SEO and off-page SEO strategies guarantees more organic traffic.
SEO is divided into two broad categories: on-page SEO and off-page SEO. Although both SEO approaches play a crucial role in the success of your online marketing strategy, they're entirely different. For instance, on-page SEO focuses on optimizing various aspects of a website within the webmaster's control. On the other hand, off-page SEO revolves around improving a website's domain authority by building an impressive backlink profile.
That said, what's the primary difference between these facets of search engine optimization? Which one is more important?
On-page SEO
On-site search engine optimization focuses on optimizing various aspects of your website that directly affect search engine rankings. Where your website appears in the search results for relevant queries majorly depends on specific elements of your site. Some of these elements include the type of content, title tags, keywords, page load speed, website accessibility, and more. It's basically what you can change directly on your website.
The importance of on-page SEO
Google and other search engines evaluate your site's content to determine whether it is a relevant result for a specific search query. An essential part of this evaluation process involves looking for relevant keywords within your content.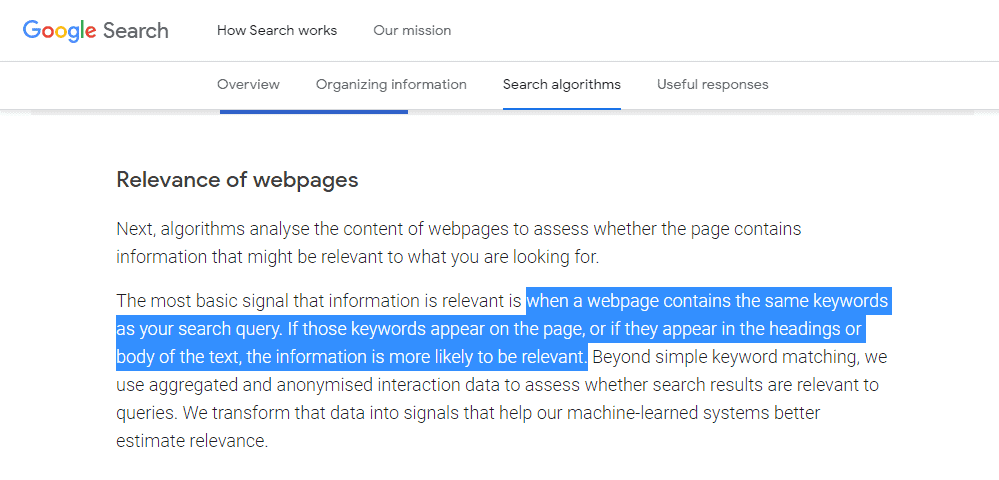 However, there is more on-page SEO than adding the correct search phrases or keywords to your content. Google and other search engines are ultimately looking for relevant results for each query. Their algorithms also check for other relevant pieces of content on your web page. If your webpage is about cats and you do not mention different cat breeds, Google will know there are more relevant results elsewhere.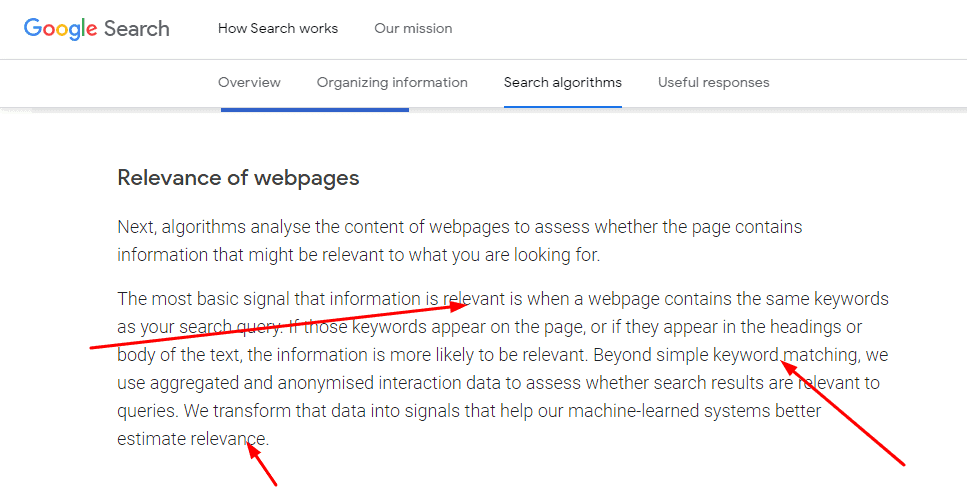 Therefore, relevance is such an essential part of on-page SEO that unless you get it right, your website is unlikely to rank.
How to improve your site's on-page SEO
1. Optimize keywords
Keywords may not be as crucial as they were half a decade ago, but they're still at the core of search engine optimization. The difference is that marketers are switching focus towards long-tail keywords. These phrases fit well in today's search patterns common among internet users.
Think about your target consumers and use the search phrases they use when searching for your services or products. Then develop and optimize authentic and informative content around those keywords.
Be sure to use your target keyword within the first paragraph or 100 words of your content. This may seem like an old-school on-page SEO technique, but it still makes a difference. For instance, if your content is optimized around the phrase "email marketing," please mention that phrase off the bat. This is important because Google and other search engines put more weight on the specific terms that appear early on your pages.
Imagine that you just published a blog post about social media marketing. If the post is really about social media marketing, would it make sense to use the keyword "social media marketing" only once halfway down the web page?
Of course not! That's the reason you should ensure the keyword should appear within the first 100 words of your content. This is one of those minor things that help search engines understand your content better and determine what a specific web page is all about.
2. Include your target keyword in the title tags
According to Google guidelines, using H1 tags helps its search algorithm understand the structure of a web page.
These title tags help draw the attention of Google crawlers to your page titles and the overall hierarchy in your content. Indeed, they help create a clear outline for the search engine algorithm so that it understands how your content is organized.
The H1, H2, and other subheadings also offer important hints about the specific material added to the paragraphs that follow that heading. This makes it easier for Google to register the essential details about your content.
3. Add Meta descriptions
A Meta description is a brief overview or description that pops below the title tag on search results. Indeed, it offers information about a specific page, and its primary goal is to help web pages stand out in the Search Engine Results Pages (SERPs). A good Meta description must be below 160 characters to ensure the information provided is visible on the search results. Remember to use your target keyword within your Meta description.
4. Alt text
Your content management system (CMS) must allow you to add alt text to your images on your site. This is the word or phrase attributed to an image to ensure that it's indexed well and search engines understand it.
Alt text is not visible to your website visitors. Instead, it helps blind internet users like search engines to understand the specific content of your images. Google and other search engines crawl images the same way as text content, so using relevant keywords while describing your images can help Google understand your pages' content better.
Adding alt attribute for every image keeps your site in compliance with the Web Content Accessibility Guidelines. So, describe your images thoroughly, include the target keyword, and add a relevant geo-locator.
5. HTTPS/SSL
Website security is now more critical than ever, making Secure Sockets Layer (SSL) security tech crucial for every website. It improves your website's trustworthiness, security, and visibility. Enabling SSL as part of your site security increases the likelihood that an unauthorized third party doesn't come between your website server and the users' web saver. That means the information entered on the website is safe.
Google and other search engines often prioritize websites that are SSL-enabled when providing relevant results for search queries, making this tech an important on-page SEO element.
6. URL structure
The specific URL you use for each web page on your site impacts its ranking ability directly. When you are first creating a website, it is crucial to consider how the URL structure you implement will affect the subsequent web pages in the future.
For instance, there are two ways to set up a blog: a subdomain or subfolder. It is recommended to use a subfolder. That is why our blog is https://javalogix.ca/blog/ instead of https://blog.javalogix.ca. The first URL format uses a subfolder and has significant benefits from an SEO perspective. It makes it easier to monitor the blog's performance and shares domain authority with the main site.
As a result, good-quality backlinks to your blog can help improve the rank of the main site and vice versa. On the flip side, this reciprocal relationship does not exist if you are using a subdomain. It also makes it challenging for both the main site and subdomain to rank in the search results.
The caveat with creating a subfolder is that you must keep the total number of subfolders in your site at a minimum level. This on-page SEO approach creates a flat website structure that is easier for Google and other search engines to crawl.
Also, it is recommended to incorporate the target keyword for every page in a succinct way. Most content management systems automatically set the URL as the article title. It is crucial to edit the URL whenever you create a new post or page on your site. Also, using short URLs that focus on the target keyword may look better in the search results and target readers. The moment your audience searches for your site, they will see the URL and quickly parse what that page is all about.
7. Content optimization
The content on your web pages must be relevant and useful to the target audience. You can optimize everything, including keywords, Meta descriptions, URLs, and links. But if your target audience doesn't find valuable, useful, and relevant content on your site, they are going to look for great content elsewhere.
So, ensure that your content answers specific search queries, in-depth, readable, and understandable. This is an important element of on-page SEO.
8. User experience
Google has been working on an important ranking signal (that came into effect in 2021). It prioritizes websites with remarkable user experiences. This update or signal "page experience signal" comprises intrusive interstitial guides, safe browsing, HTTPS, plus mobile-friendliness, and more. Here is a screenshot of Google's announcements.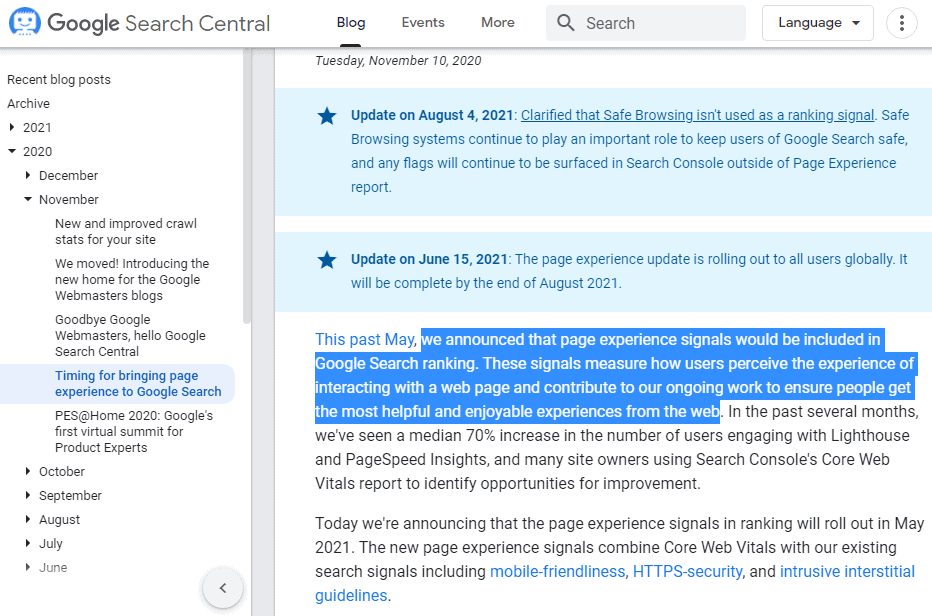 Optimizing your website pages for all user experience elements makes your website more enjoyable for the target users across different browsers and devices. Also, this will encourage business success as more users enjoy a higher level of engagements and drives sales.
9. Structured data
This is the data that adheres to an already defined data model and is straightforward to analyze. It helps Google and other search engines to understand page content perfectly. For example, Google uses some structured data types to show "rich results," such as a recipe or step-by-step guidelines. The rich results usually appear at the top of all search results and often have higher click-through rates compared to organic listings.
Generally, Google favors structured data types that use Schema.org vocabulary and the JSON-LD format. You can also use the Rich results test tool to analyze and test your code. Check out a comprehensive guide on structured data and rich results on Google's official page.
10. Internal linking
Another important aspect of on-page SEO is the internal link structure. All internally linked pages on your website make it easy for search engines to crawl pages and keep target readers engaged. When adding internal links, make sure the anchor text (clickable text in the hyperlink) is relevant. Ensure that the chosen word or phrase is appropriate to the page you intend to link to. Each web page must have at least three internal links.
11. Website speed & responsiveness
Google continues to place more value on the overall experience of interacting on your website and the information you offer. Fast sites are likely to rank in the search results. So, it is crucial that the technology that runs your website is optimized to load very fast across different browsers and different devices.
A recent report revealed that 60% of all Google searches are performed on smartphones, tablets, iPads, and other mobile devices. Therefore, ensuring that your website is mobile responsive is an integral part of your on-page SEO strategy. If your website performance is low when the target audience uses mobile devices, your website's ranking will decrease over time.
That said, on-page SEO is crucial to your website. It ensures that a site is visible to the target audience and search engines. With a well-thought-out on-page SEO strategy, Google and other search engines will quickly index your website pages, understand the content on your site, easily navigate the structure, and most importantly, rank the site accordingly.
What's off-page SEO?
Imagine this; you have implemented an excellent on-page SEO strategy and done everything to optimize your site. From optimizing the content, images, and Meta tags to using the right keywords and setting up a great website structure.
Yet, your website is still struggling to rank on Google.
Why?
It could be because you have just completed half of the puzzle. The other half of the SEO equation is off-page SEO. While on-page SEO is an integral component of a great SEO strategy, there are essential actions you must take outside of your site that can help your website rank well in the search results.
Off-page SEO focuses on all actions that fall outside of your site that you take to boost your site's search engine ranking. Unlike on-page SEO, most off-page SEO factors are not directly in a webmaster's control. However, there are some steps you can take to control them. A well-thought-out off-page SEO approach will boost user engagement on your website, increase brand awareness, and reveal how important your web pages are to your audience.
You probably know that Google weighs hundreds of factors when determining your site's rank in search results. Some of these factors are directly based on your website performance and content (on-page SEO). Search engines gather their understanding of a website via other sources outside the website domain. This is the main reason off-page SEO is so important.
How to improve off-page SEO
Off-page SEO is more than just building an impressive backlink profile for your site. It goes way deeper than that. For instance, brand mentions (brand name or website URL mentioned on other websites without a hyperlink) are a crucial element of off-page SEO.
In fact, off-page SEO tells search engines what other internet platforms think about your website. For instance, if you have many valuable links pointing to your website pages, Google will assume that you have good content – the content types that provide value to searchers. Otherwise, why would a reputable website waste time linking to your content?
Here are essential aspects of off-page SEO.
1. Link building
Good links from other websites serve as votes of confidence in your site's domain. That means the more good votes you get, the higher the chances of ranking better on search results. Conversely, the fewer votes your site gets, the more challenging it will be for your site to convince search engines that it is a trustworthy and authoritative resource.
Basically, it would be best if you had other websites to vouch for your website, and that's what great backlinks do. Therefore, building an impressive backlink profile is an essential aspect of off-page SEO and should be a priority in your online marketing strategy.
It is recommended to use white hat methods to get backlinks. Methods like flooding comment sections and forums with links can get your website penalized by Google. Here are the best practices to get great backlinks for your website.
Prepare your website or pages for link building.
Many website owners are often tempted to ignore the initial preparation steps for link building. However, it is crucial that you prioritize this preparation as it will ensure you are mindful of the links you get. Recently, Dr. Meyers evaluated some of the top brands that won & lost in Google search in 2015. The websites that lost ground in organic search ranking did not have a solid foundation. Here is a screenshot of Mayer's findings.
The majority of these platforms have strong domains and have been around for a while. However, the basic elements that improve a web page's power may be missing. So, how do you make sure that your website or web pages are ready to get good backlinks?
Step 1: Lay out your website's internal pages properly
Carefully optimized internal pages make a significant difference in your site's ranking in the search results. This includes having a clear internal linking structure with more emphasis on the brand name. Keep in mind that the number of internal links to a specific page shows that page's importance relative to other web pages within the same website.
You should set up silo pages that connect to the category page and posts (supportive pages). This way, when you send a link to your home page, the 'link juice' flows through the category pages and posts or supportive pages. This boosts your site's search performance. Here's an illustration of a simple internal links layout.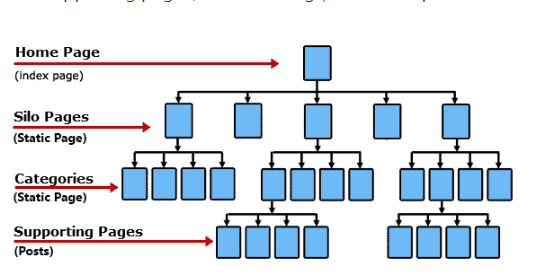 None of your website's pages should stand alone. Ensure every page is an integral component of your site and implement seamless navigation. An impressive internal link layout is essential to your appeal to Google and website users.
Step 2: Do on-page SEO
So far, you must have realized that on-page SEO and off-page SEO are intertwined. Failure to do on-page SEO will make search engines view your website as simply a neglected portal. The good news is that the first part of this article discussed all the essential elements of on-page SEO. This is one side of the coin – the other is off-page SEO.
Step 3: Choose thematic keywords.
While links remain to be the icing on the cake, the crucial upshot to SEO that controls all other factors is search phrases or keywords you choose. Indeed, keywords are still the fundamental building blocks for your website's content and other forms of content campaigns.
Remember, not all keywords are equal. An important step to improving the odds of driving relevant organic traffic to your website is to choose thematic keywords. The term 'thematic' in this context means 'relating to' or 'having' a specific subject.
Now that your website is ready for link building, it's time to start link building. But how do you get excellent links for your websites?
Create incredible content that other sites want to link to: One of the top content marketing objectives is to build links. By creating education, newsworthy, helpful, and remarkable content, your web page can attract links from content creators. This is an off-page SEO technique that will positively affect your SEO.
Outreach emails to key influencers in your niche: It's possible to use the reputation of influencers to build your site's reputation. Creating good relationships with top brands or individuals and inviting them to share your content with their audience is an effective way to build a great backlink profile. Influencer marketing can also drive traffic and brand mentions, which boosts a brand's credibility and authority.
Guest blogging: Another great off-page SEO technique is guest blogging on relevant websites. It helps send backlinks to your site and boost the site's reputation. When you write for another reputable website, you might get a link back to your website. In this case, you continue to build a great link profile while enhancing your site's online visibility and traffic.
2. Social media
You have probably thought of social media marketing as your brand awareness tool rather than an off-page SEO play. However, social media marketing is an effective way to improve your website's domain authority and ultimately boost your site's rankings in the SERPs.
Whenever you share great content on social media and direct relevant traffic to your site, it shows search engines that the website is gaining traffic from diverse platforms (sources) and has valuable content. For this reason, it is important to consistently engage your social media community and use it to distribute your content. Remember, more engagements are likely to lead to more backlinks, clicks, and shares – all these actions help improve your website's domain authority.
Wrap up
On-page SEO vs. off-page SEO… which one is more important? Should you focus solely on on-page SEO or off-page SEO?
You can't simplify the entire SEO concept and only concentrate on one facet of SEO. For your digital marketing strategy to be effective, you need to implement a well-thought-out on-page SEO and off-page SEO. Sure, there are differences between these two SEO strategies, but a great online marketing plan treats both strategies as equal.
If you have been focusing solely on on-page SEO, it is high time to get off your website and establish relationships with other top industry bloggers and website owners. Prepare your website to start getting excellent backlinks and implement other off-page SEO strategies discussed in the last part of this article.
Do you want to create and implement an effective on-page SEO and off-page SEO for your business? If so, do not hesitate to contact us.